Reminder for Preschool and Kindergarten students for their field trip tomorrow 5/5/2022 to the Clay Center. Kindergarten wear blue and preschool wear red. Also, please do not send back packs to school tomorrow.

Reminder for Preschool Families: Mother's Day Tea will be tomorrow, April 21st at 2:00. Please note the time as there was a typo on a notice that was sent home.

Notice to parents regarding Soaring Eagles Club.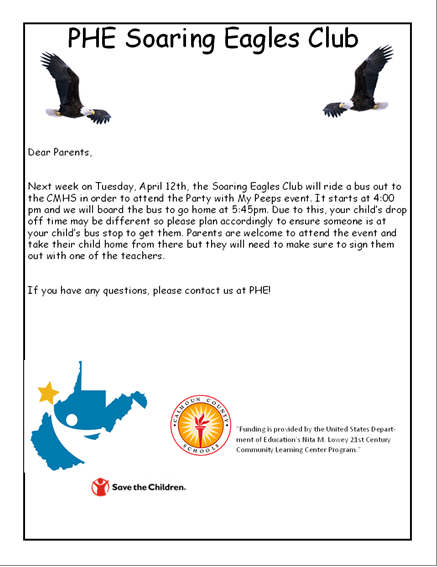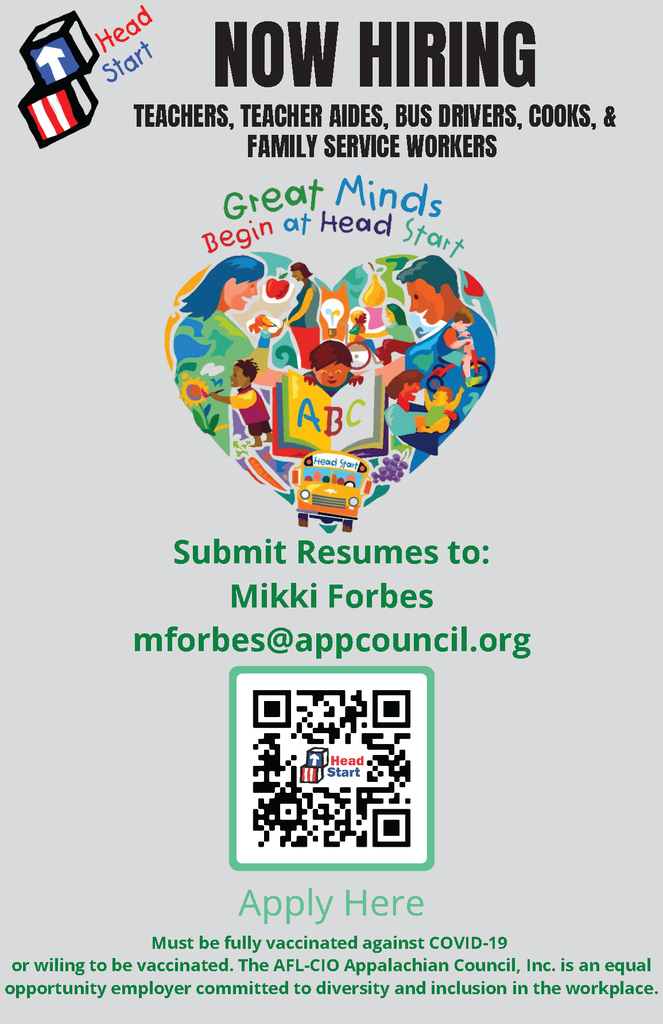 myON literacy program is happening at PHE!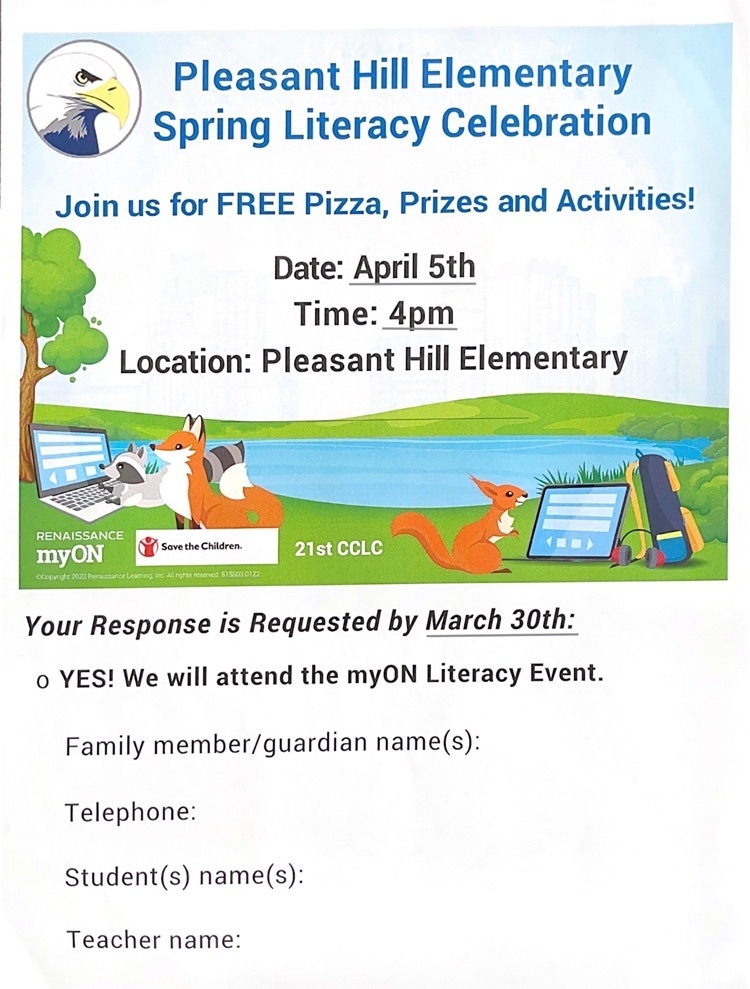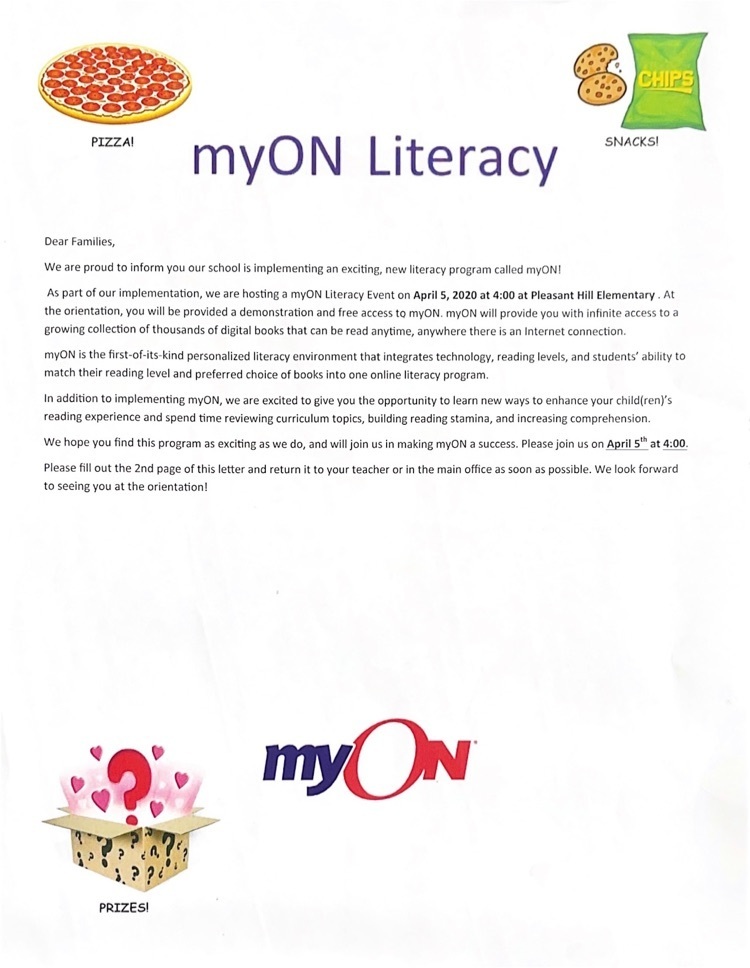 The Region 5 Social Studies Fair has been rescheduled for March 19th, due to the impending winter weather. A letter will be going home to the students who have qualified for Regionals. You can also click here for the letter.
https://5il.co/1719e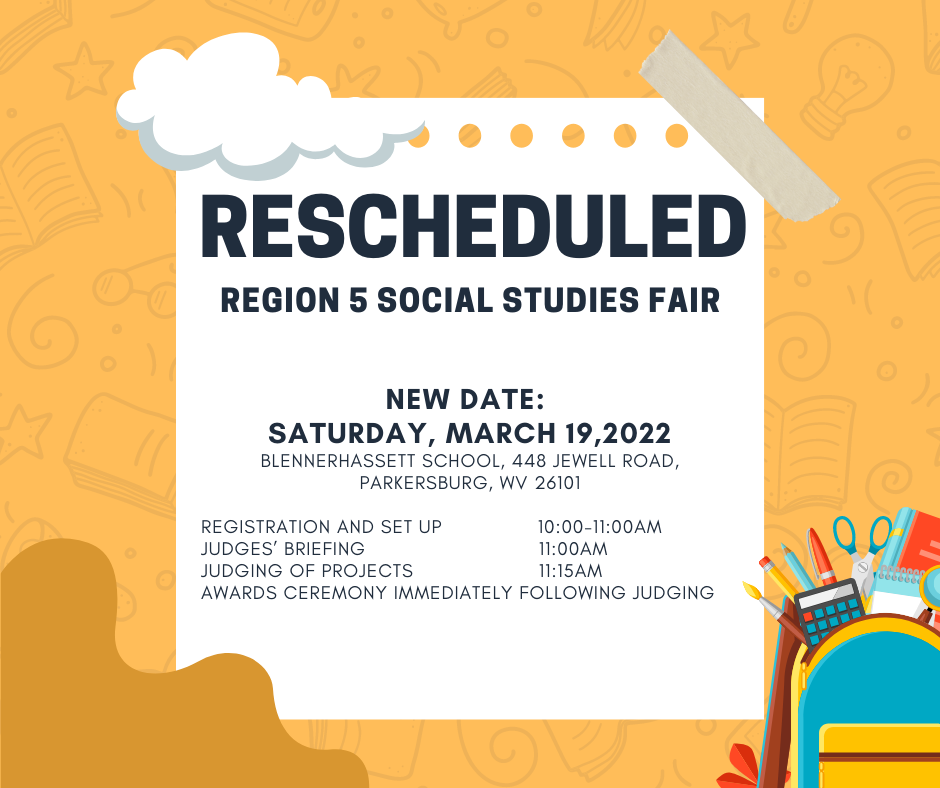 Due to a water line break all students for Calhoun County Schools will be dismissed at 9:30Am to return home. Please note we understand there is a current phone outage. We are monitoring social media messages, and Please contact for questions and concerns Pleasant Hill Elementary 3043546022 or Arnoldsburg Elementary at 3046558616.

Good morning, CMHS has extra security this morning. No direct threat has been made, but we are concerned about an individual. If you need to enter the building please use the buzzer. Thanks

Congratulations to the following winners for Calhoun County Young Writers Fair. The judges loved the stories and wished there was more to read, another chapter perhaps? The Writers were able to help the judges visualize and feel the story. The students did not make their job easy. The Winners will have their entries submitted to the State Young Writers competitions. Grade 1-2- "A Mermaid Friend" by Rylan Arnold, AES, 1st grade Grade 3-4 " The Beach Vacation" by Paisley Harper, PHE 4th grade Grade 5-6 "The Tale of the Scorpion Temple" by Jude Walker, LKVCS 5th grade Grade 7-8- "Expedition to Egypt" by Cameron Cottrill, LKVCS, 8th grade Grade 9-10- "The Red Eyes" by Nyla Warner, CCMHS 10th grade Grade 11-12 " A Father's Love" by Chase Marks, CCMHS 12th grade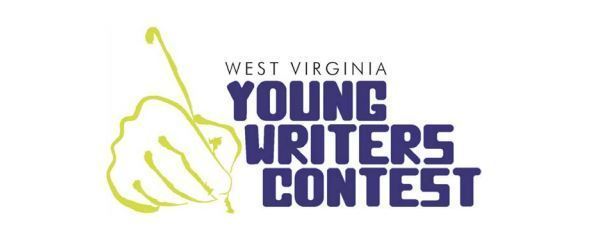 Good Afternoon, Bus 3 is running 20 minutes late due to a mechanical issue.

Calhoun County Schools will be on a three hour delay. Mechanics maintenance, custodians and administrators report at their normal time.


Calhoun County Schools has a partnership with Birth to Three Programing to support future students. Do you like working with Children Birth to 3 and their families? Employment Opportunity with Skill Builders LLC. A WV Birth to Three Service Coordination Agency is looking to hire WV Birth to Three Service Coordinators to work in Wood, Calhoun and Gilmer Counties. This position offers the ability to work from home, flexible hours that you schedule yourself, a great hourly rate and the opportunity to make a positive difference in the lives of children and families in your community. This position does typically require travel to family's home in and around the areas listed above, BUT during the COVID-19 Pandemic, many services and visits are being provided virtually. This position is for day and evening work that you schedule. Strong and reliable Internet is also a requirement. A minimum of a BA degree, preferably in social work, education or a human service field is required OR being a parent of a child that has aged out of the WV Birth to Three System. Please email or call for more information regarding these positions.
skillbuilders1@comcast.net
or contact Susan Watson at 304-282-8554 This posting/position will remain open until filled.

Do you know a child who is not *moving *hearing *seeing * learning or *talking like others their age? If you are concerned about your child's development, get help early. Every child deserves a great start. WV Birth to Three supports families to help their children grow and learn. To learn more about the WV Birth to Three services in your area, please call: 1-866-321-4728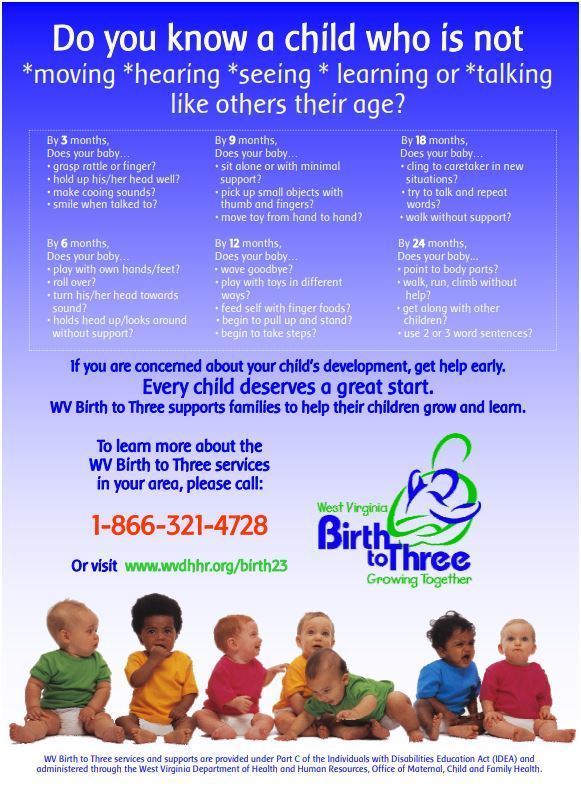 Good Morning Calhoun County Schools will be implementing the virtual plan for professional development today. Please see the plan your principal shared with you. Mr. Fitzwater will notify maintenance and mechanics about their schedules. Thanks

Free Covid-19 Testing Thursday , February 10th 1pm-2:30 pm and 2:45-5pm At the Calhoun County Middle High School parking lot. Pre-registration is recommended but not required at: wv.getmycovidresult.com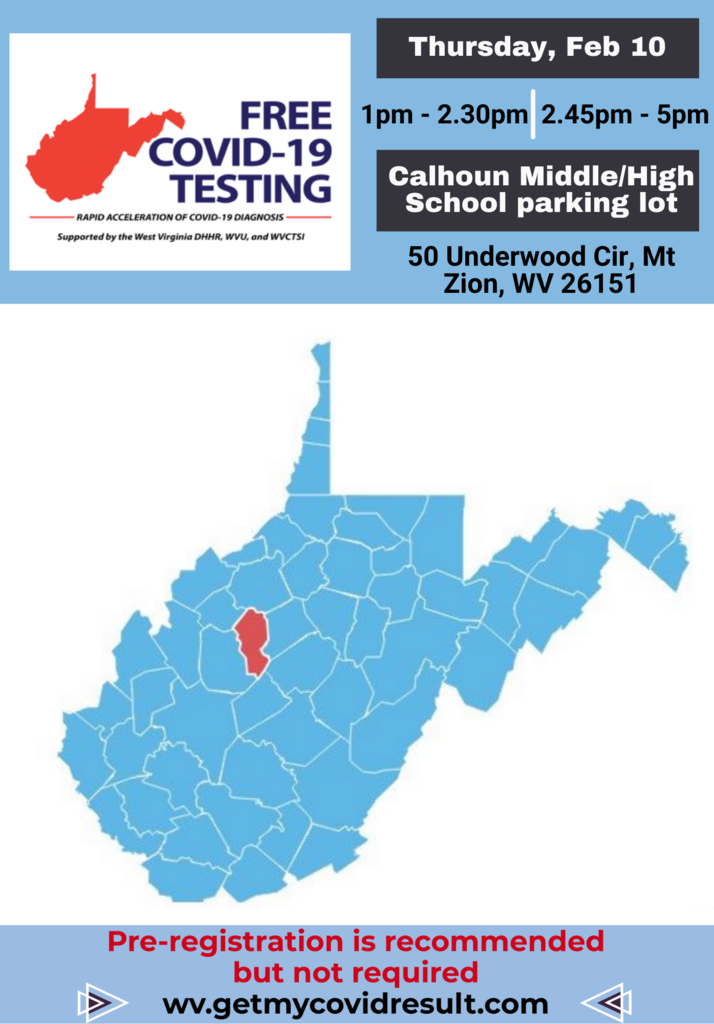 Pleasant Hill Elementary parents and caregivers: 💥Attendance Incentive by:Communities In Schools (CIS)💥 Starting Wednesday January 12 through March 14th PHE students that do NOT miss any days of school will be entered into a drawing to win one of the 2 prizes (see picture below). At 2:30p.m. On Monday March 14th Miss Carrie with (CIS) and Mrs. Cunningham will put each students' name (with perfect attendance) into a drawing (Wheel of names) 2 students will be a lucky winner❗️ Kindle donated by: Minnie Hamilton, Ryans World Mystery Deluxe donated by: Communities In School, and Lego Ninjago Spinjitzu donated by Save the Children. If you have any questions please contact Pleasant Hill Elementary 🦅 Communities In Schools #CISWV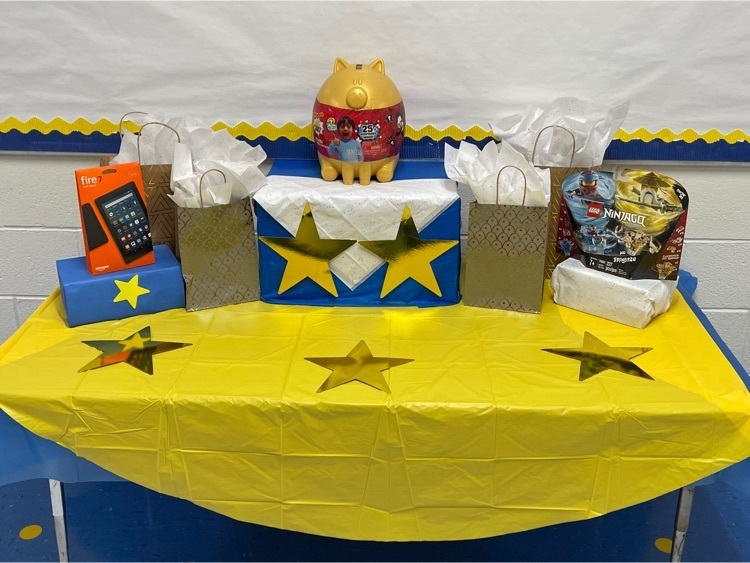 Good morning Calhoun County Schools will be on a three hour delay on Friday, January 28.

Free Covid- 19 testing at CCMHS parking lot on Thursday, January 27th from 1-5pm. Pre- registration is commended but not required :
https://wv.getmycovidresult.com/
.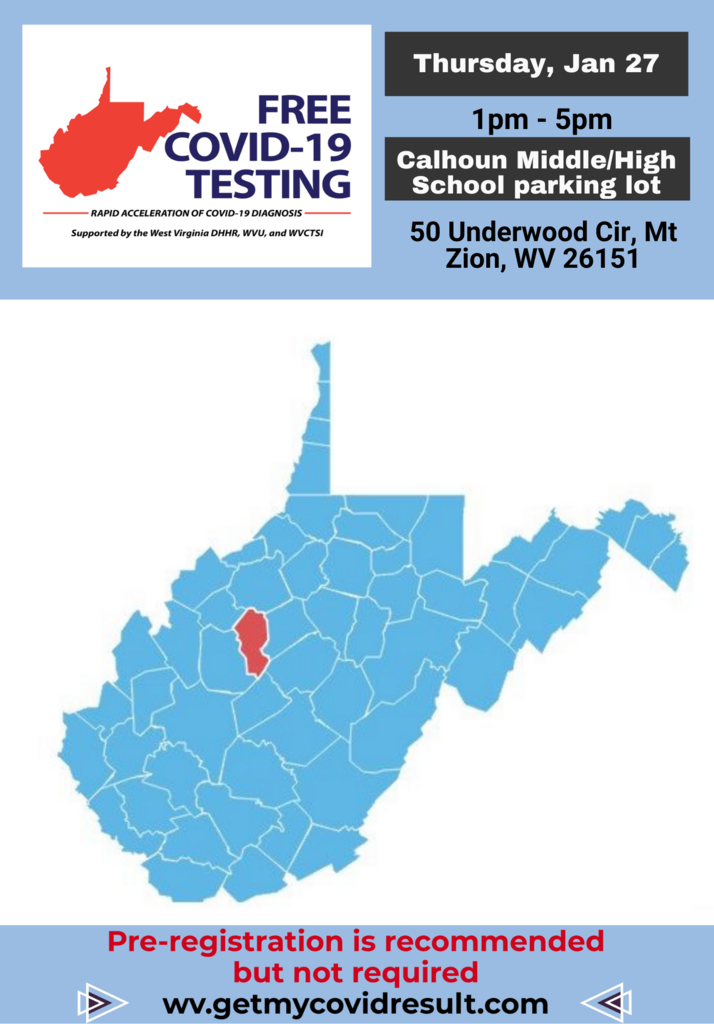 Good Evening, Calhoun County Schools will be operating on a three hour delay on Monday, January 24. Please stay warm and safe. Thanks