Summer Fun at Summer School Camps start tomorrow June, 21st. Please watch for the busses picking up our students along the road. Please be a little early at the bus stop tomorrow times are approximate. It's not to late to sign up for the fun while learning. Call CMHS or stop by to sign up.


American Connectivity Program (ACP) The Affordable Connectivity Program is an FCC benefit program that helps ensure that households can afford the broadband they need for work, school, healthcare and more. The benefit provides a discount of up to $30 per month toward internet service for eligible households and up to $75 per month for households on qualifying Tribal lands. Eligible households can also receive a one-time discount of up to $100 to purchase a laptop, desktop computer, or tablet from participating providers if they contribute more than $10 and less than $50 toward the purchase price. The ACP benefit is limited to one monthly service discount and one device discount per household. Who Is Eligible for the Affordable Connectivity Program? A household is eligible for the ACP if the household income is at or below 200% of the Federal Poverty Guidelines, or if a member of the household meets at least one of the criteria below: § Received a Federal Pell Grant during the current award year; § Meets the eligibility criteria for a participating provider's existing low-income internet program; § Participates in one of these assistance programs: § The National School Lunch Program or the School Breakfast Program, including through the USDA Community Eligibility Provision; § SNAP § Medicaid § Federal Public Housing Assistance § Supplemental Security Income (SSI) § WIC § Veterans Pension or Survivor Benefits § or Lifeline; § Participates in one of these assistance programs and lives on Qualifying Tribal lands: § Bureau of Indian Affairs General Assistance § Tribal TANF § Food Distribution Program on Indian Reservations § Tribal Head Start (income based) Visit this link for a list of participating companies:
https://www.affordableconnectivity.gov/companies-near-me/
How to Enroll: There are two steps to enroll for ACP benefits. Apply Now 1. Go to AffordableConnectivity.gov to submit an application or print out a mail-in application. 2. Contact your preferred participating provider to select a plan and have the discount applied to your bill. Some providers may have an additional application to complete the ACP enrollment process. Eligible households must both apply for the program and contact a participating provider to select a service plan. Additional resources are available at: Support Contact
ACPSupport@usac.org
or 1-877-384-2575 FCC ACP Information
https://www.fcc.gov/acp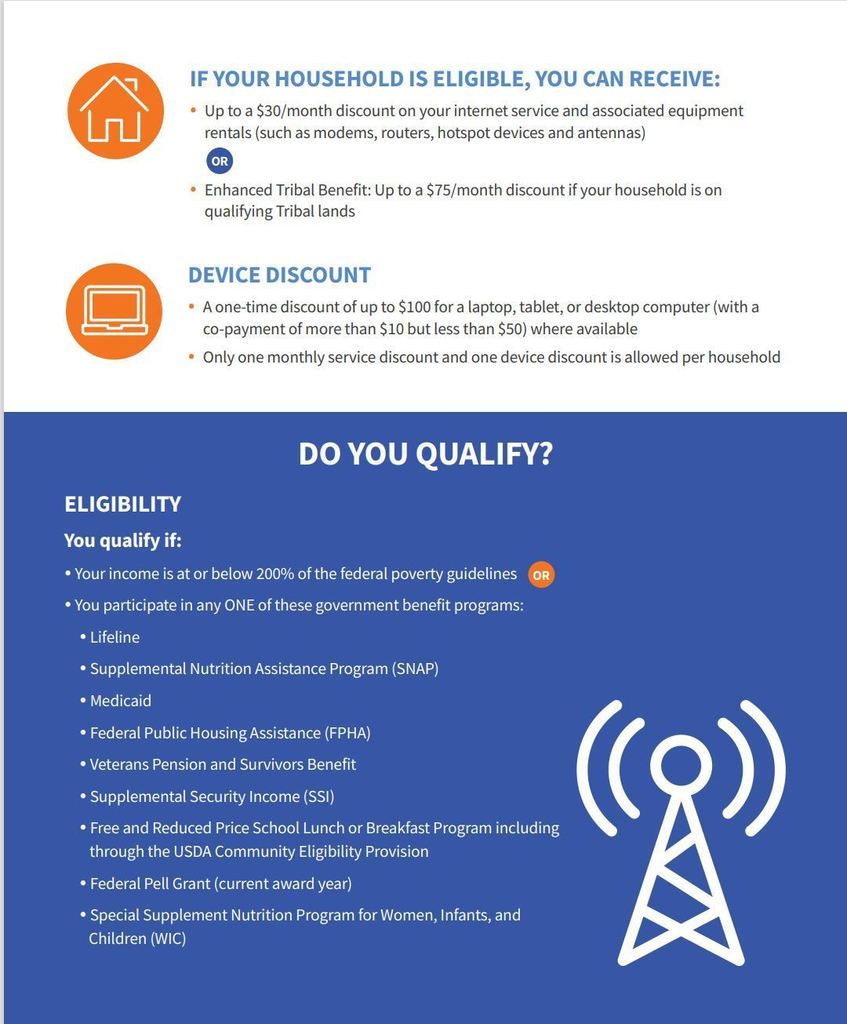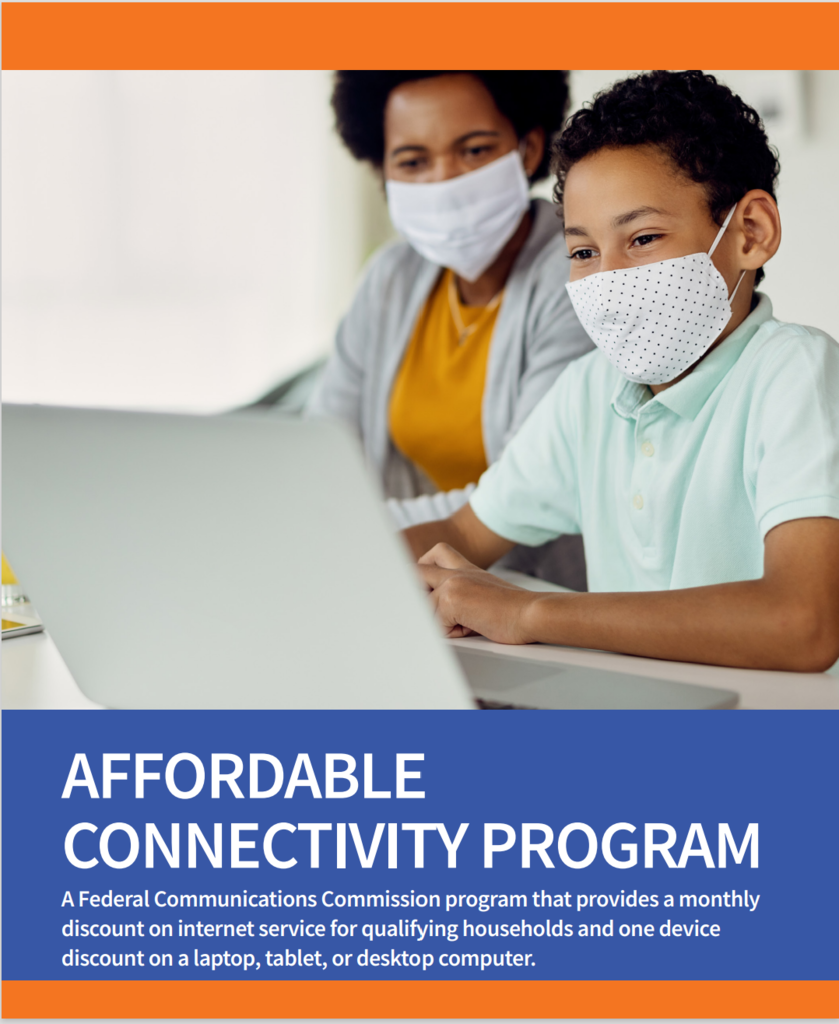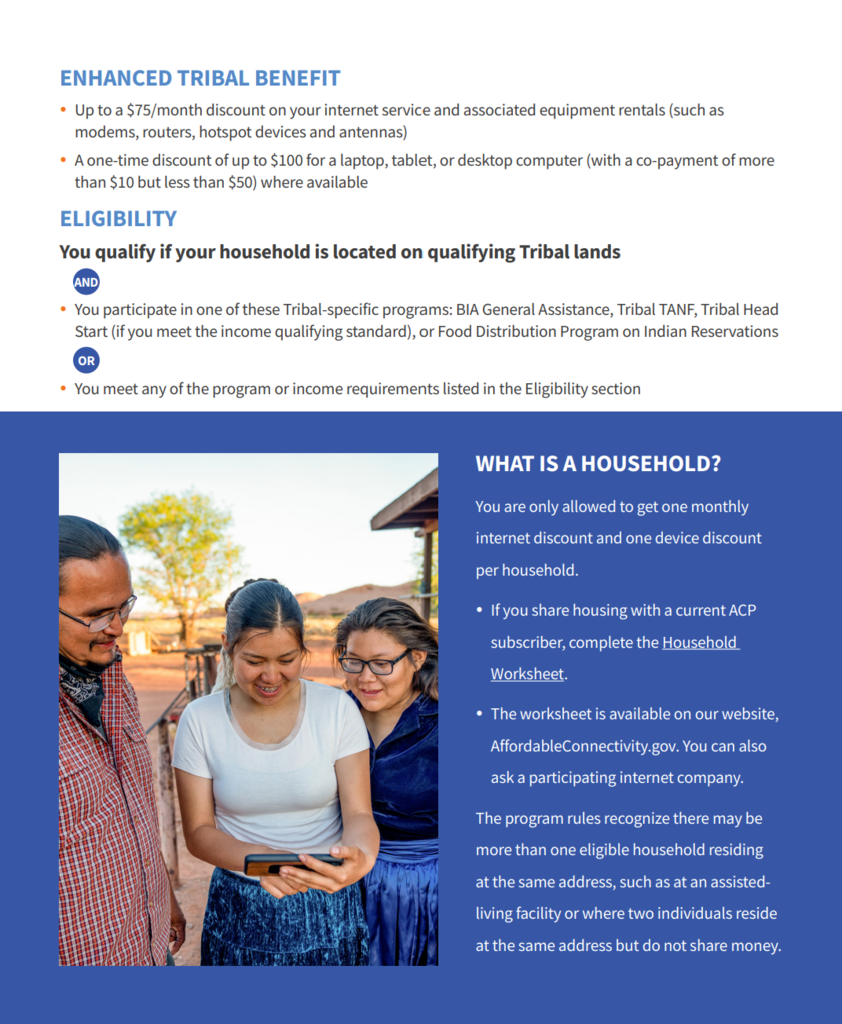 We are still accepting students for Summer School Art Camp! Young artists will explore art with paper mache. Join us for a week of fun that will foster creative expression and good-looking projects! The only limit is your imagination. This activity is completely free! All materials and supplies will be provided. You only need to bring your imagination and creativity. Cover-ups are not required, but if you are concerned about your clothes, you may bring a smock, old shirt, or apron. Middle School Art Camp: July 18-22 High School Art Camp: July 25-29 How to Register:
https://boe.calhoun.k12.wv.us/documents/aspire/summer-camp-opportunities/323746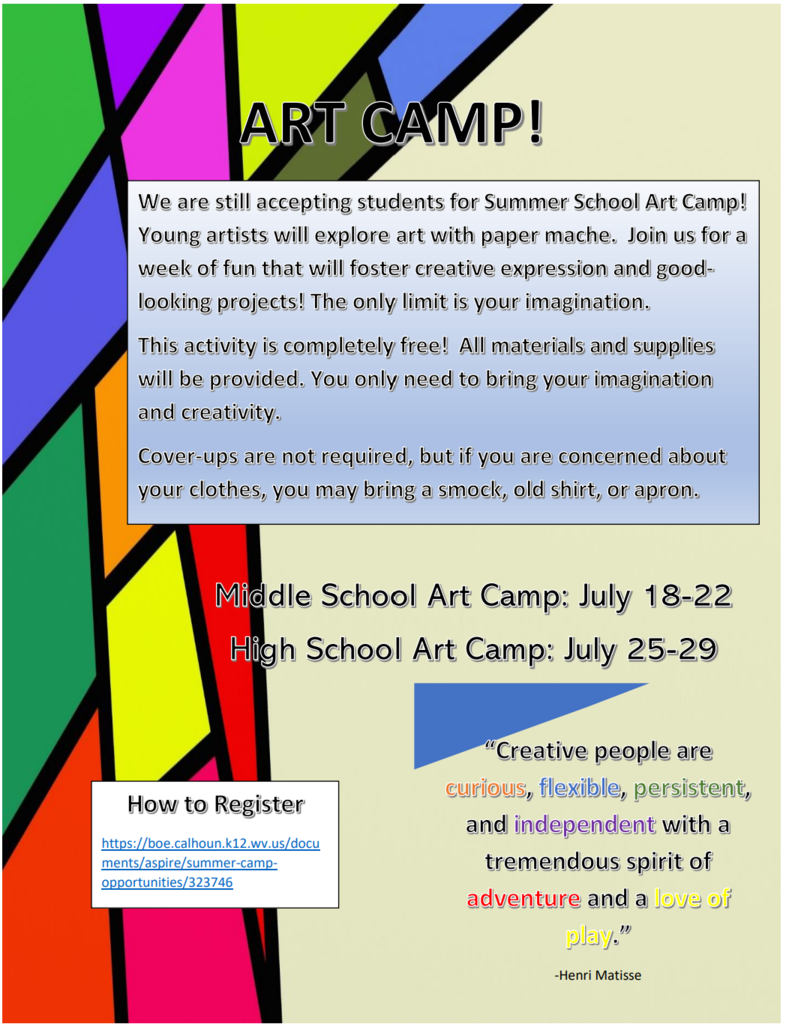 MS/HS OUTDOOR Adventures camp will be an action packed week full of activity! We will be hiking, biking, canoeing/kayaking, and climbing through tree tops on a Timber Trek. This week will be full of adventure and a whole lot of fun! You absolutely do not want to miss out on this fun! You can still sign up by clicking on the link.
https://boe.calhoun.k12.wv.us/documents/aspire/summer-camp-opportunities/323746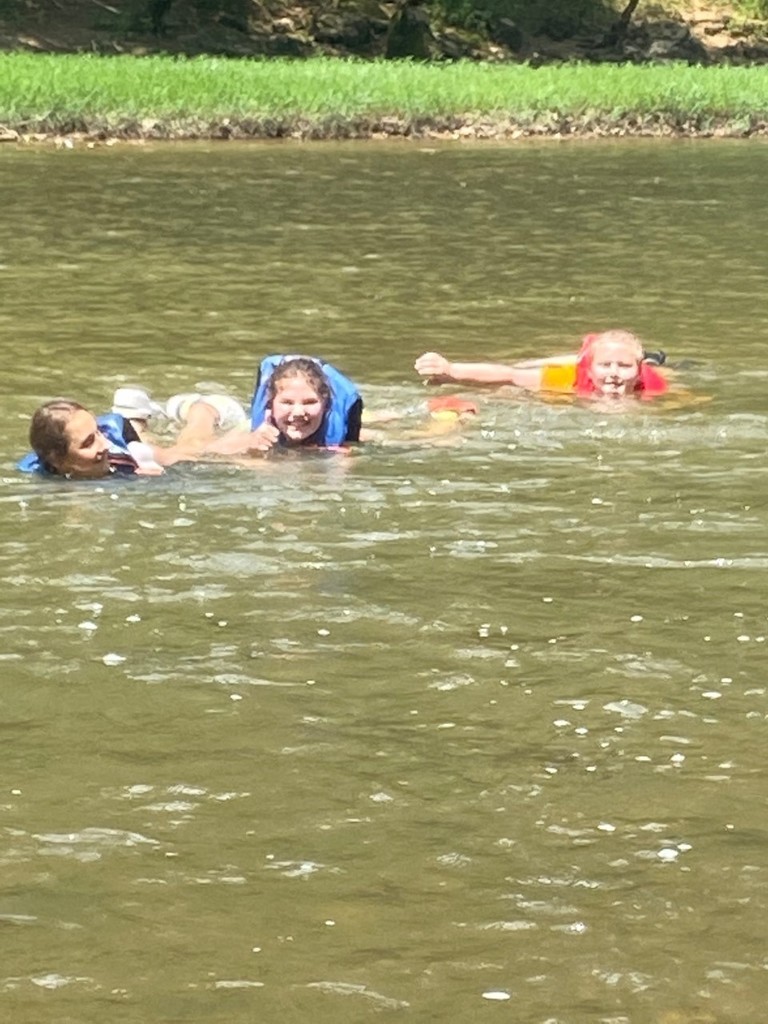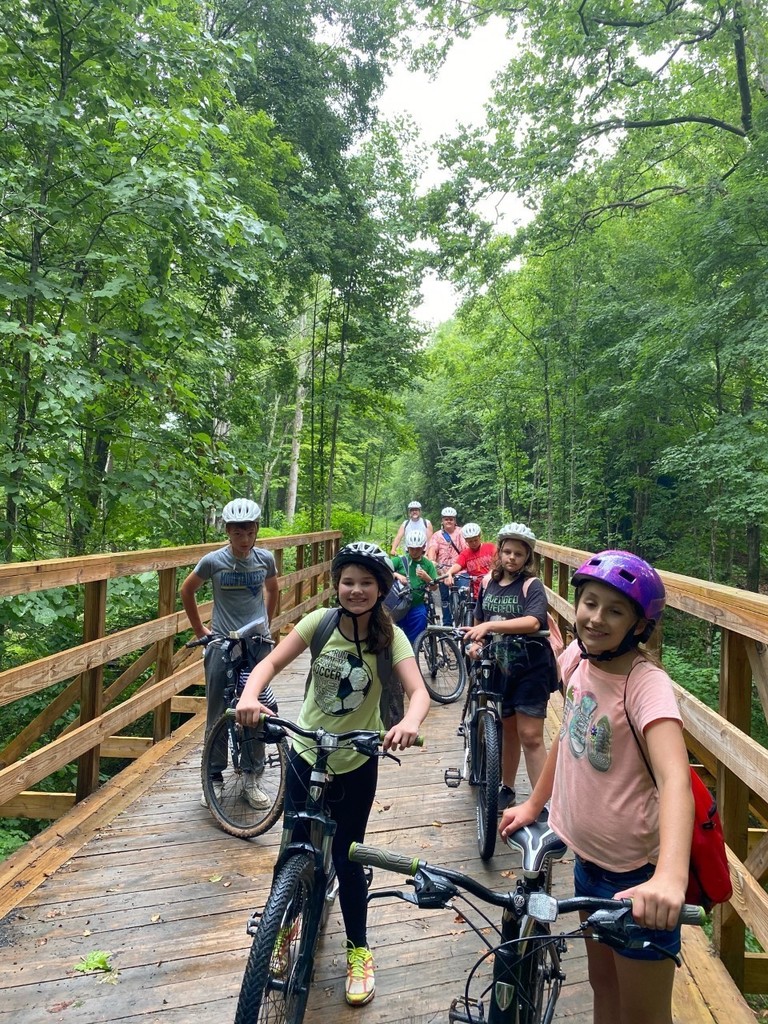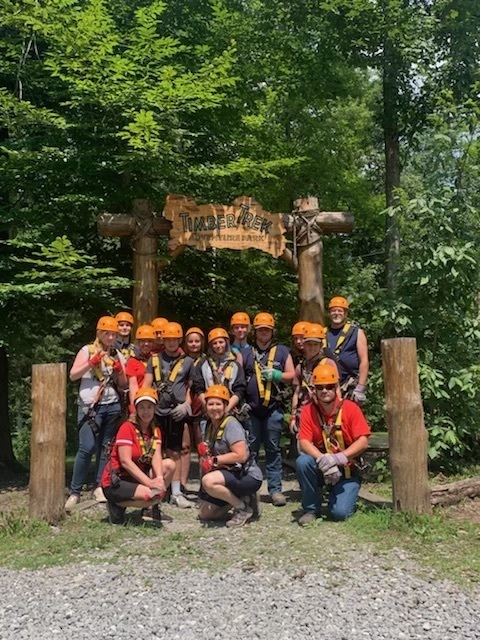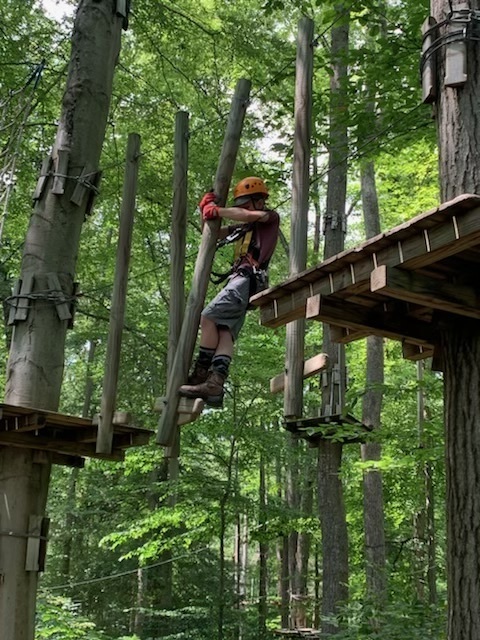 We are still accepting Summer School students. Mrs. Haught would love to have you in her summer camp! She says "This will be a fun filled week of arts and crafts. We will be doing some fun summer canvas painting, tie dying t-shirts and making some very interesting creatures that you won't want to miss." Click here to register for your Summer Camp with Calhoun County Schools.
https://boe.calhoun.k12.wv.us/documents/aspire/summer-camp-opportunities/323746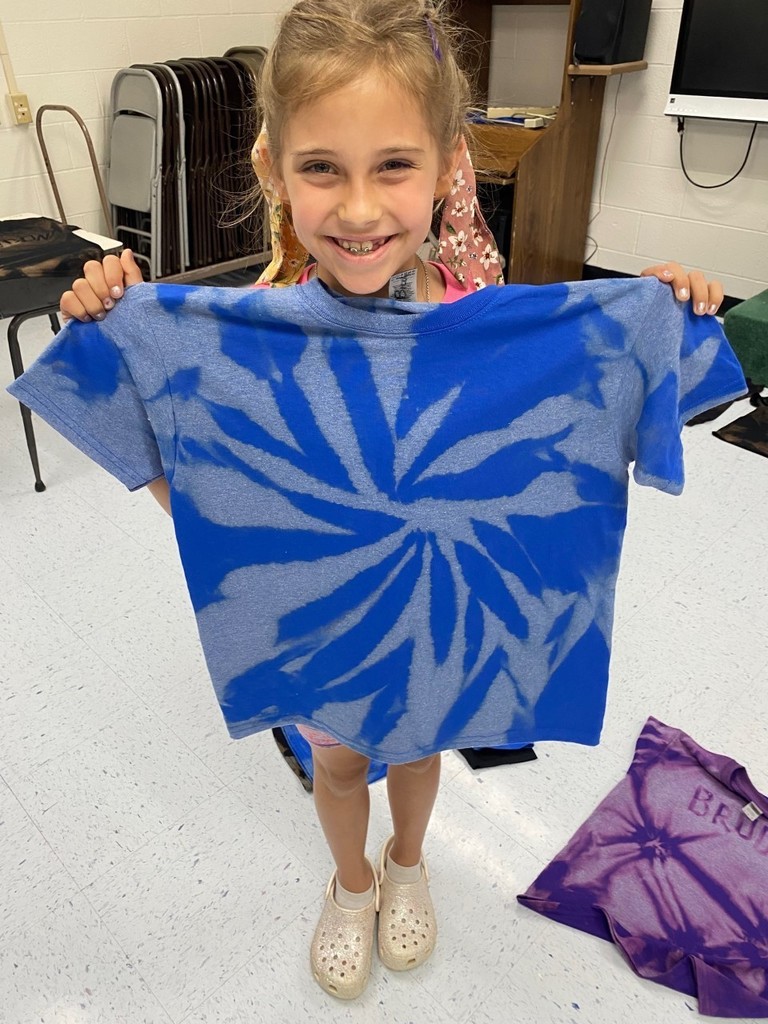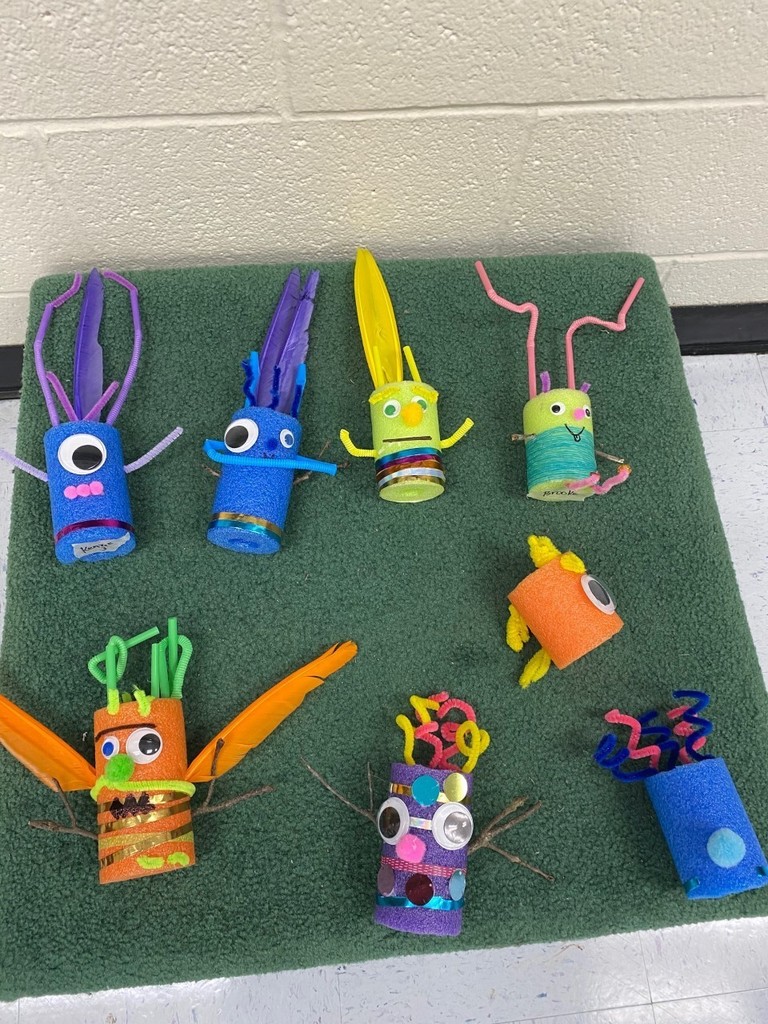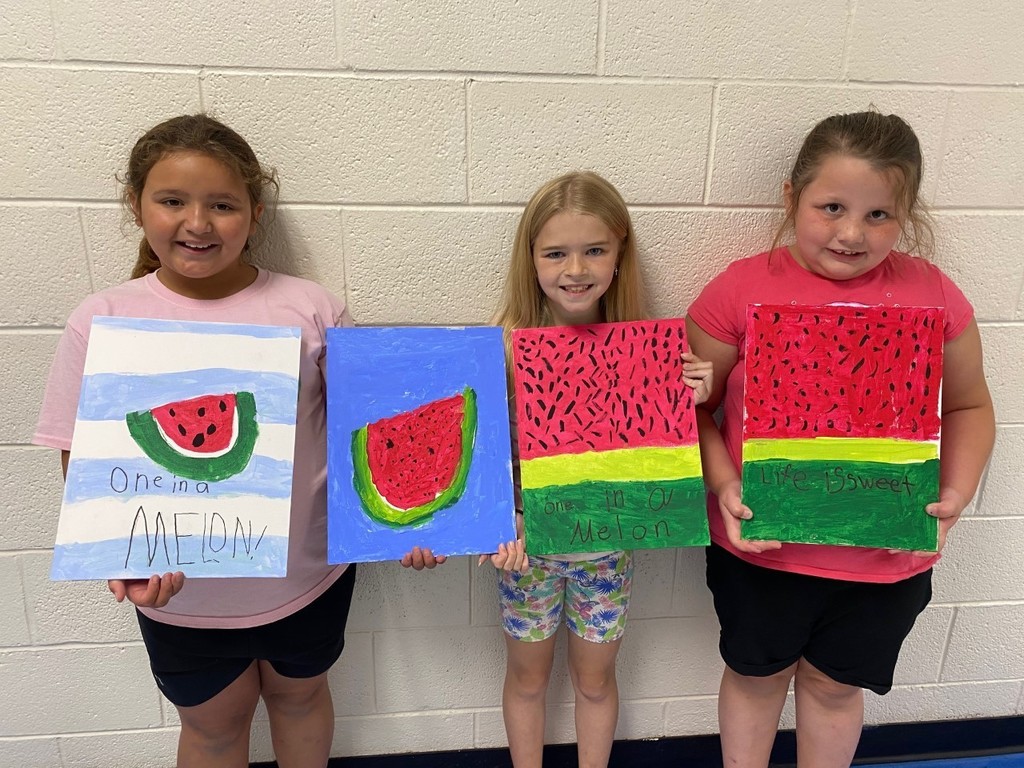 Save the Children is conducting community surveys to gain insight into future programming and support needs. These surveys are brief, requiring less than ten minutes. The higher the participation rate, the more voices are heard. Accurate data will better position us to deliver community specific support. Please click ( or copy and paste) the link to complete the survey:
https://bellwethereducation.qualtrics.com/jfe/form/SV_eboqaAQD3mx6NoO
Thank you for your input.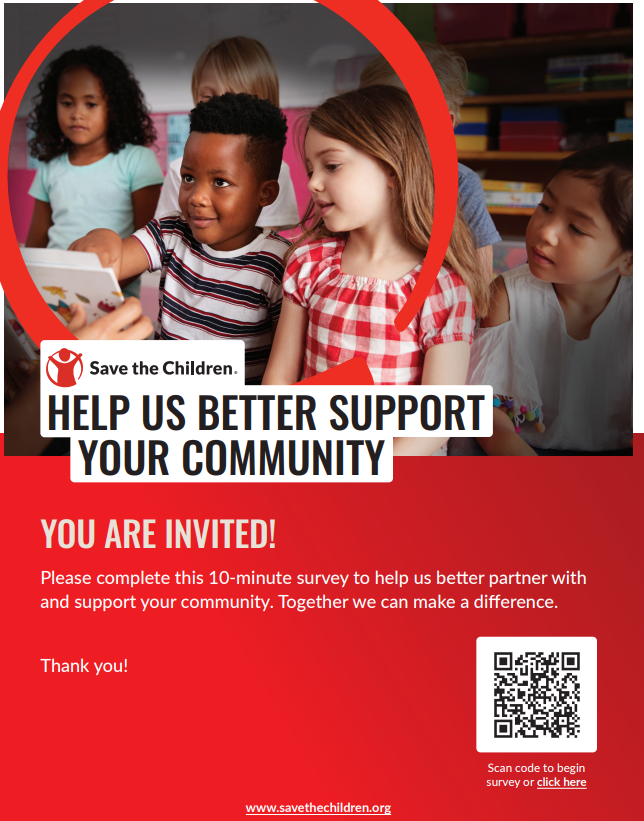 Good evening. The Technology Staff will begin collecting Kindergarten through 4th grade school-issued devices and book bags on May 23rd at Arnoldsburg Elementary and May 24th at Pleasant Hill Elementary. While washing the book bag isn't mandatory, it is appreciated. Please be sure to send in any technology on loan from the school on their respective collection days. Thank you and have a nice evening.

This is a reminder to fourth grade students about move up day happening tomorrow May 23rd. Students will ride their regular bus or be dropped off by parents at Calhoun Middle High School in the morning. They will return to Pleasant Hill in the afternoon. Also permission slips and liability waivers for the field trip need to be returned by Tuesday May 24th at 8:00 am. The wavier can be completed online at the link available on the school page. If you have any questions on this contact Mrs. Hardway or Miss Yoak as soon as possible. Thank you.

4th to 5th Grade Move Up Day Monday, May 23rd Pleasant Hill 4th Grade students will have the opportunity to experience a day in the life of a 5th grader at Calhoun Middle/High School. They will be riding their regular buses to CMHS the morning of May 23rd just as they will next school year. Their 4th grade teachers will be meeting them at CMHS. If you normally drop your student off at school you will need to do so at CMHS that day. While at CMHS students will get to meet their new teachers for the 2022-2023 school year and find out more about what it will be like in 5th grade. They will have lunch at CMHS and then return to Pleasant Hill in the afternoon. They will ride their regular bus home or can be picked up as normal.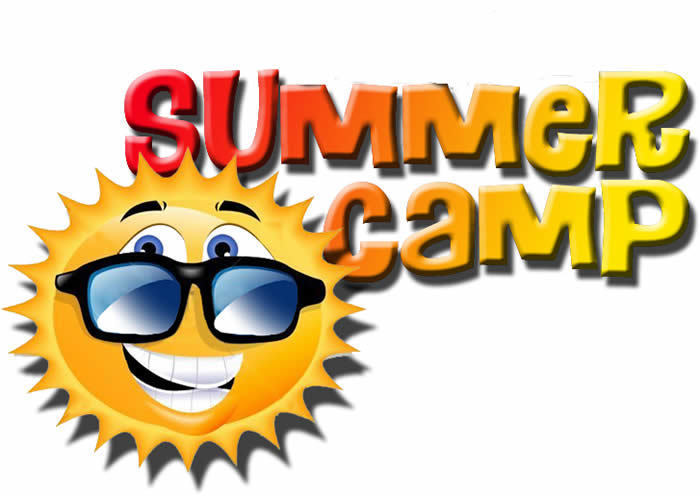 4th Grade Return trip update. We have reached the Burnsville exit at 9:50. Estimated return to the school at 10:50 due to fog conditions.

Due to scheduling change with transportation the fourth grade students will not be returning to Pleasant Hill from their Kennywood trip until between 9:00 and 10:00 pm. Please watch Pleasant Hill's Facebook page for live updates on arrival time.

Reminder for Preschool and Kindergarten students for their field trip tomorrow 5/5/2022 to the Clay Center. Kindergarten wear blue and preschool wear red. Also, please do not send back packs to school tomorrow.

Reminder for Preschool Families: Mother's Day Tea will be tomorrow, April 21st at 2:00. Please note the time as there was a typo on a notice that was sent home.

Notice to parents regarding Soaring Eagles Club.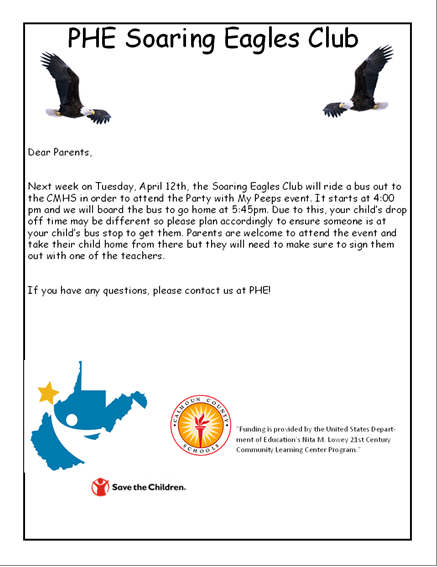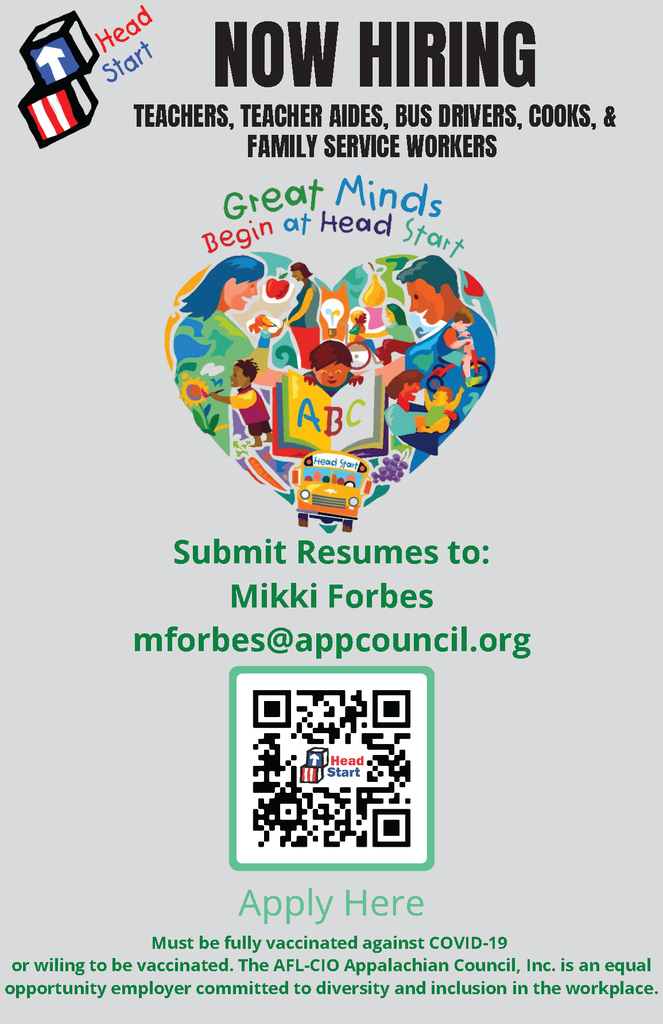 myON literacy program is happening at PHE!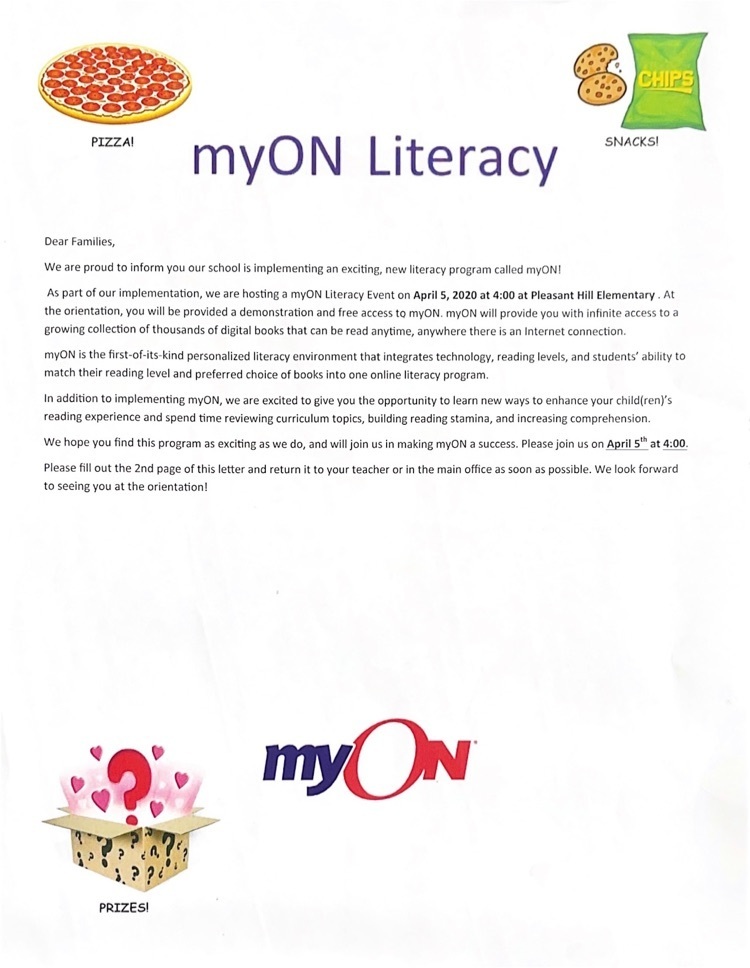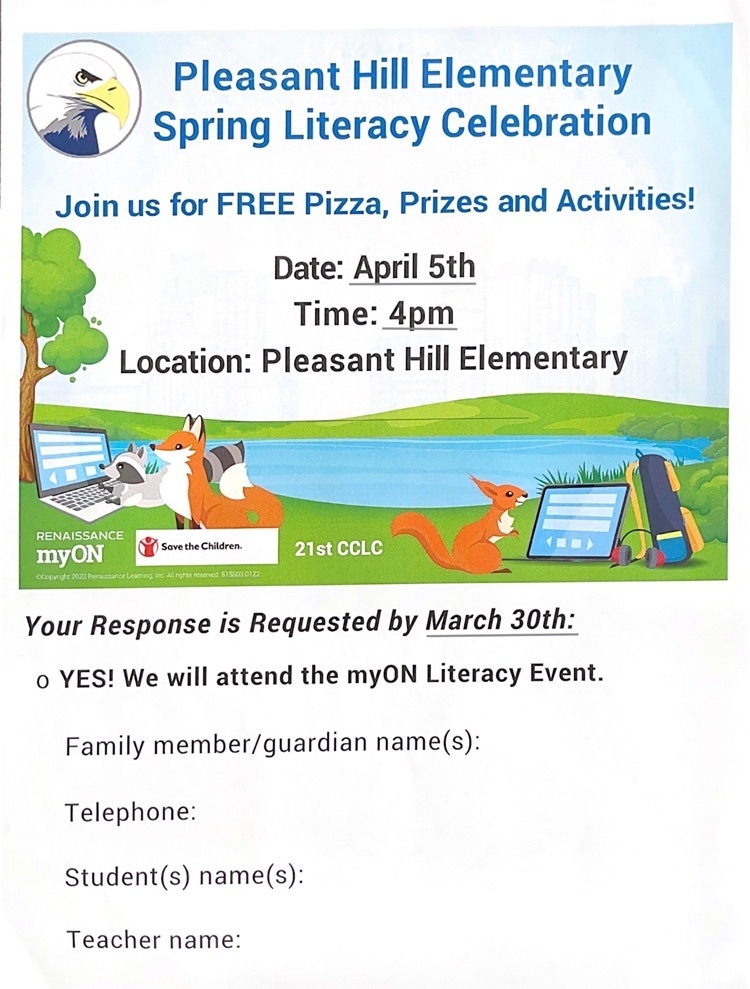 The Region 5 Social Studies Fair has been rescheduled for March 19th, due to the impending winter weather. A letter will be going home to the students who have qualified for Regionals. You can also click here for the letter.
https://5il.co/1719e