Reminder for Friday, September 23rd. All Pleasant Hill students will be going on a field trip to the Molasses Festival Heritage Day. Send a jacket and no sandals please. Dress to play and paint. Thank you!

Pleasant Hill has been given the opportunity to attend Heritage Days at the Molasses Festival this year. We will be departing Pleasant Hill at around 8:30 on Friday morning, September 23rd. They will be with their grade level group and visiting a variety of activities and exhibits. We will return to Pleasant Hill in time for regular dismissal and evening buses will run on their regular schedule. The weather is supposed to turn cooler so please send a jacket and wear appropriate clothes to paint and play. No sandals please. Please call at 304-354-6022 if you have any questions.

Reminder of School Picture Day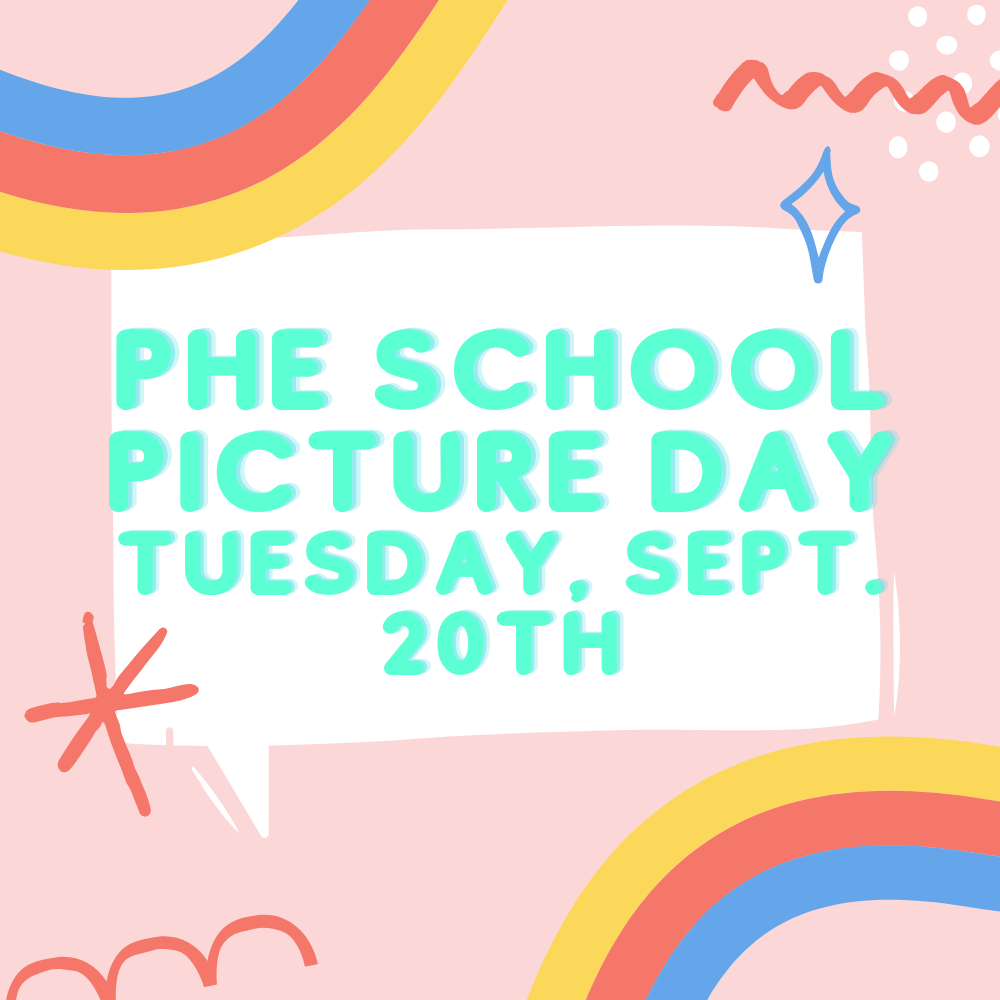 Good evening, Due to a main water break Arnoldsburg Elementary School will not have school on Wednesday, September 14. Teachers and aides will report to Calhoun Middle High School. Cooks and custodians will report to the board office. We will update as soon as we have more information.

Reminder of PHE PTO Meeting on Tuesday, September 13th at 4:00 in the cafeteria. Everyone welcome. Volunteer training for interested parents will also be provided. Hope to see you there!

Come join us on Fridays!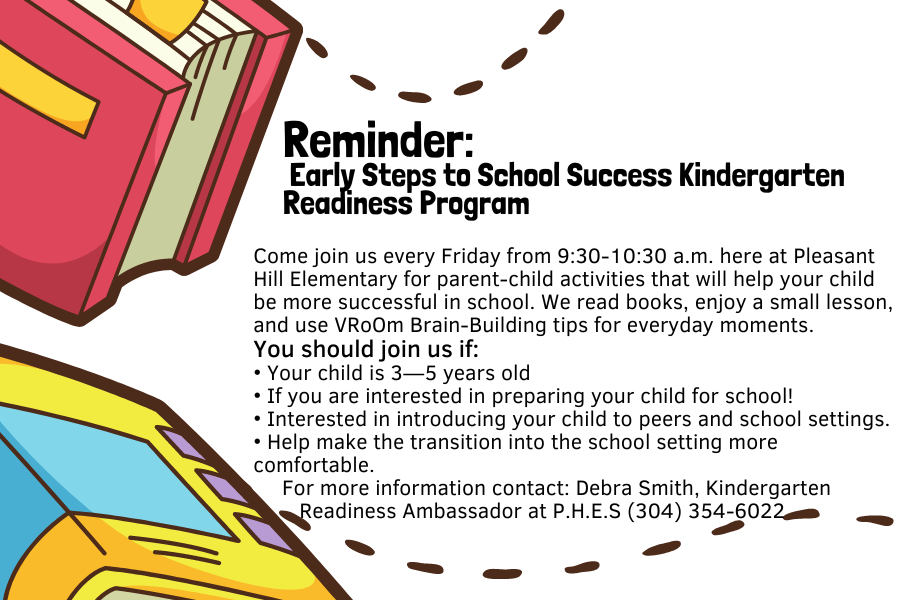 Dolly Parton's Imagination Library is a book gifting program that mails free, high-quality books to children from birth to age five, no matter their family's income. Click this link to sign up online at
https://tinyurl.com/calhounreads
. You can also sign up at your local libary or school.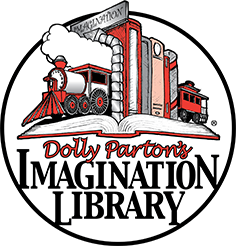 Early Steps to School Success Kindergarten Readiness Program Come join us for our weekly Parent-Child group at PHE on Friday from 9:30-10:30 a.m. We will be talking about how to help your child learn at home with Fall counting. Come see and join us for all the fun parent-child activities we offer. We have story time, guided lessons, and Brain-Building tips for everyday moments. You should join us if: • Your child is 3—5 years old • If you are interested in preparing your child for school! • Interested in introducing your child to peers and school settings. • Help make the transition into the school setting more comfortable. For more information contact: Debra Smith, Kindergarten Readiness Ambassador at A.E.S (304) 655-8616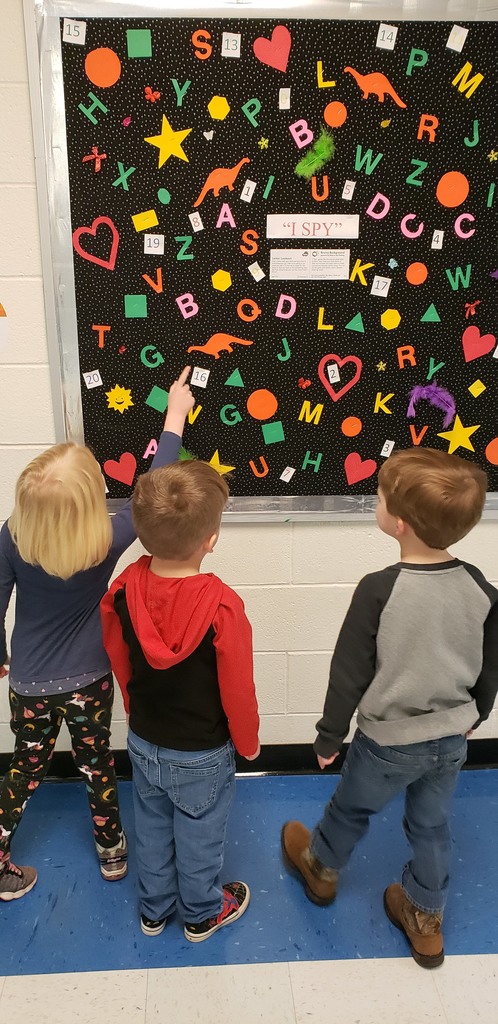 Kindergarten Readiness Parent Child Group parents, you will need to pull into the parking lot and drop your little loves off to me and then find a parking spot at the church. They are painting lines on the new black top. Sorry for the inconvenience.

We are looking for volunteers at Pleasant Hill!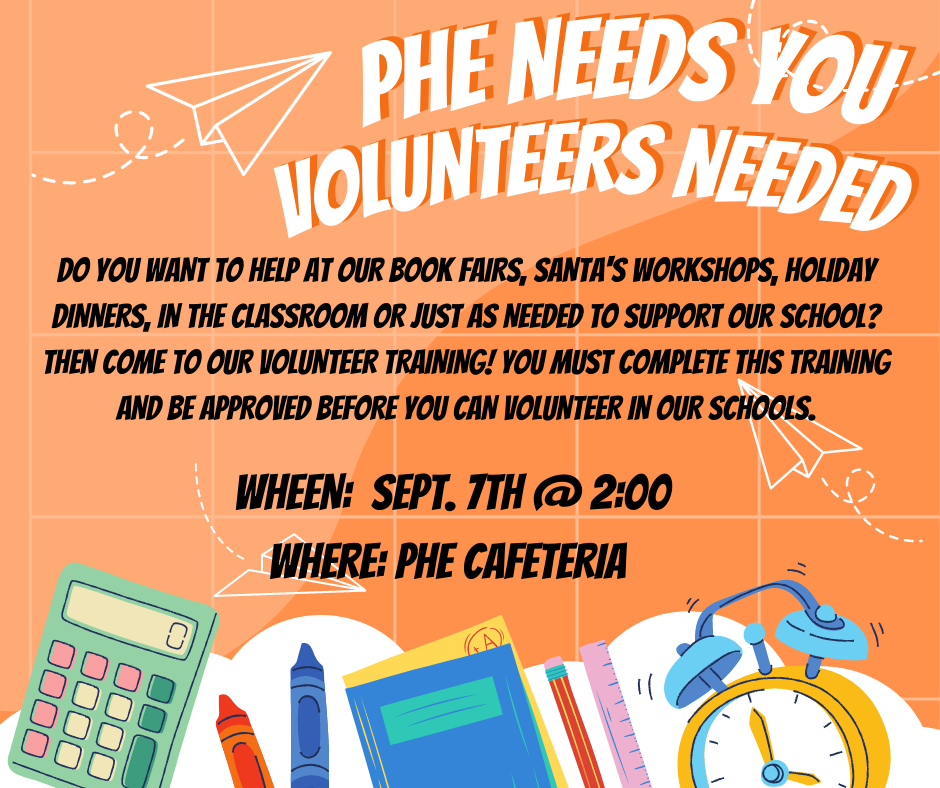 Reminder: Kindergarten Readiness Parent Child Groups are held each Friday at PHE 9:30-10:30 a.m. and AES 2-3 p.m. This week we will talk about bus safety for those of you who are starting Pre-k next week.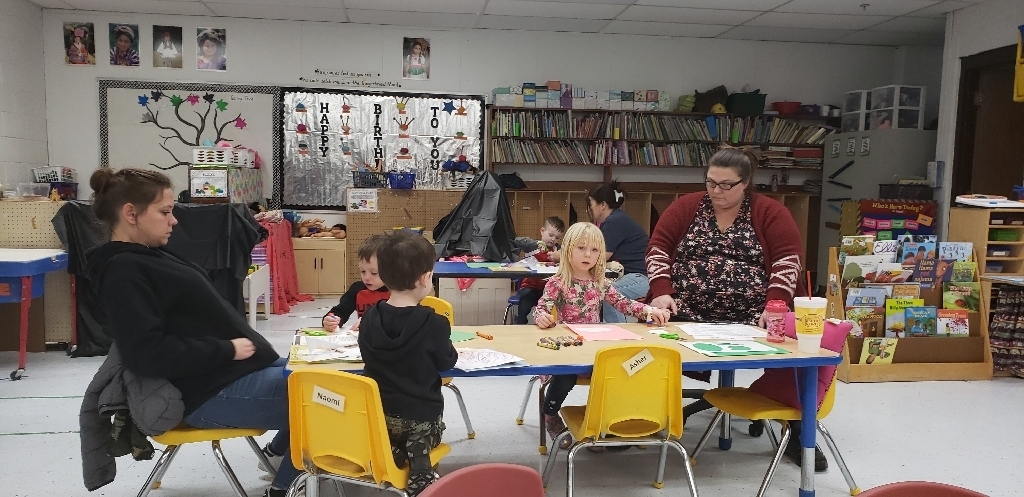 The afterschool program at AES and Pleasant Hill will not start on Monday, August 29th. We will update with a start date as it becomes available. Sorry for any inconvenience this causes.

Reminder for incoming PreK students. There will be a preschool open house from 3:00 to 5:00 this afternoon, Friday August 26th. Students can meet the PreK staff and see the classrooms. We hope to see you all there!

If you haven't yet, make sure to make plans to visit the Book Nook at the FRN on Main Street in Grantsville. Deb just restocked with new coloring books and crayons! Michele says there are lots of good reading materials and activities for your kiddos!!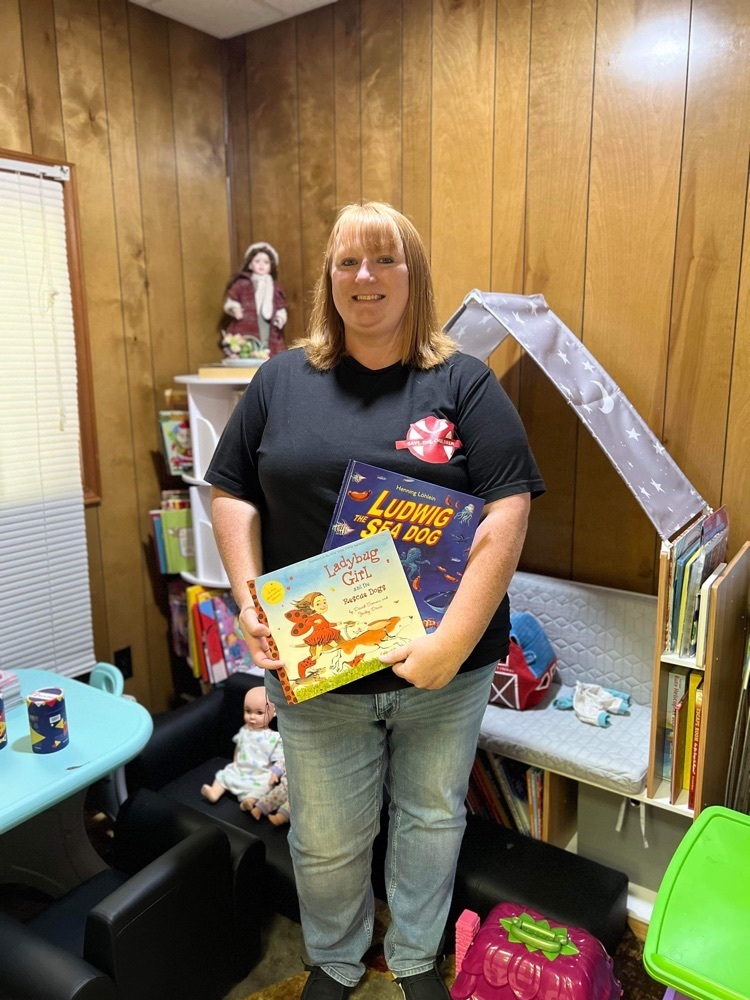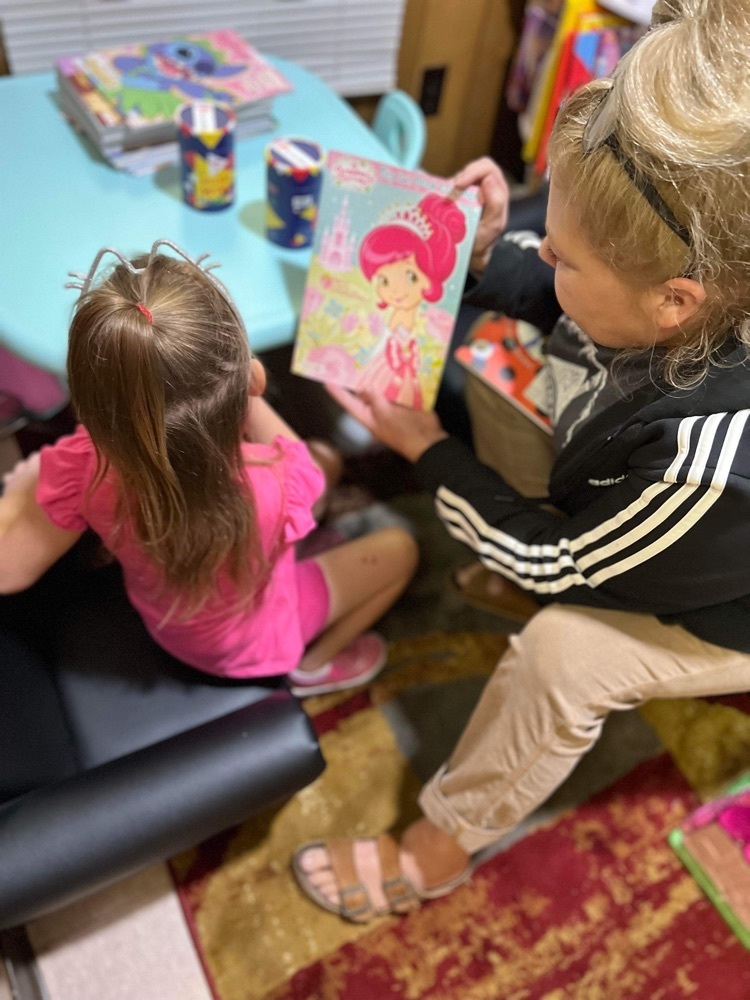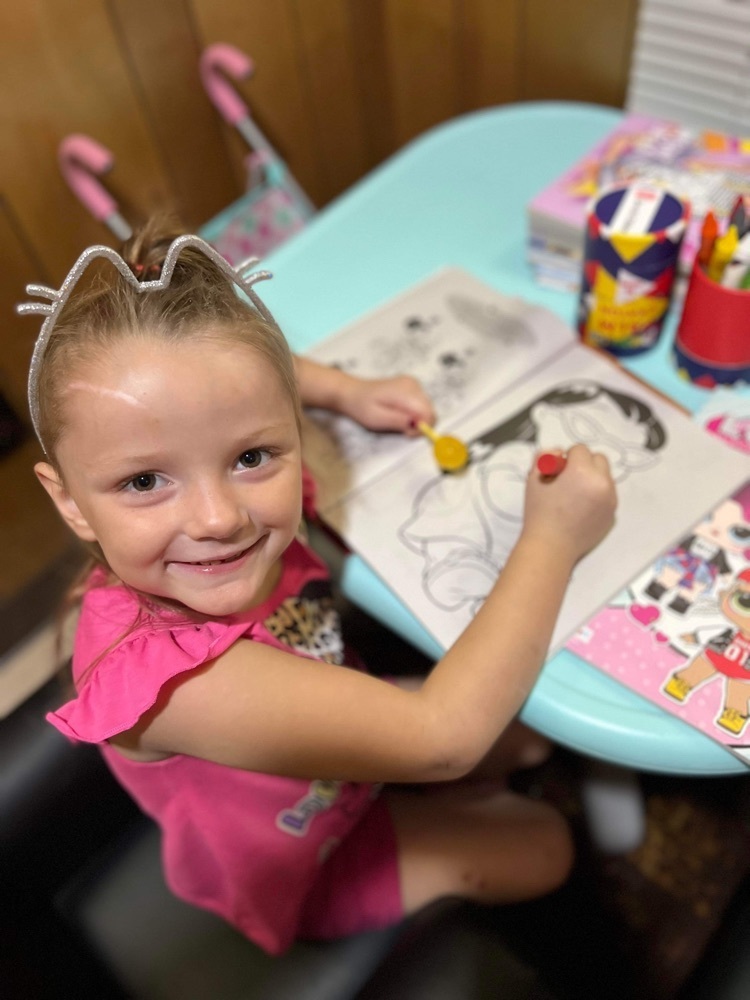 Communities In Schools are asking members of the community to answer these Needs Assessment Interview Questions. By answering the questions it gives us a better idea on what changes can be made to better serve students and families in the community. Thank you forhttps://forms.office.com/Pages/ResponsePage.aspx?id=S7AZ4AwzekaLrgn7FzdNajt2D-jZyTJEi8K5FqQedkdUNlQyUExURk8yMTJSUDNWQTkwNkNWWExQQS4u participating.

Early Steps to School Success  Free early childhood education services to children birth through five years of age and support for their parents or caregivers.  Assist children with early language, literacy, math, social, and emotional development.  The result will be a strong foundation of learning for the child which will prepare him/her for success in school! Program Activities:  Two home visits each month from an early childhood educator o Fun parent-child activities! o Developmental screenings. o Support and connections to community resources.  Parent/child groups and story book hours.  A book bag exchange program for children  Brain building tips for everyday moments.  Children ages birth to 24 months of age and/or pregnant women. *Free of charge To enroll or to find out more information contact: Suzanne Allen, E.C.C AES (304) 655-8616 Michele Hipp, E.C.C Pleasant Hill School (304) 354-6022 • Spaces are limited so we encourage you to enroll today.

Early Steps to School Success Kindergarten Readiness Program  Free early childhood education services to children three through five years of age and support for their parents or caregivers.  Assist children with early language, literacy, math, social, and emotional development.  The result will be a strong foundation of learning for the child which will prepare him/her for success in school! Program Activities: Weekly In-person groups are held at PHE every Friday from 9:30-10:30 a.m. and at AES every Friday from 2:00-3:00 p.m.  o Fun parent-child activities! o Developmental screenings o Support and connections to community resources  Parent/child groups and story book hours.  A book bag exchange program for children  Brain building tips for everyday moments. To enroll or to find out more information contact: Debra Smith, Kindergarten Readiness Ambassador at P.H.E (304) 354-6022 or A.E.S (304) 655-8616 • Spaces are limited so we encourage you to enroll today. You should register if: • Your child is 3—5 years old • If you are interested in preparing your child for kindergarten! • Help introduce your child to peers and school setting. • Help with transitioning into school setting. Children ages 3 to 5 years of age. *Free of charge

Good Morning and happy first day of school to our Kindergarten and 4th grade students. We look forward to welcoming 1st, 2nd and 3rd grade tomorrow morning! Due to construction happening on our sidewalks parent pick up and drop off will be on the right side of the school in the gym. Please do not park directly in front of the school as it is a hazard and blocks the bus routes. Thank you and have a wonderful start to the school year! Principal, Ashley Cunningham